Lead Verification System | (800) 776-5646
---
Lead Verification System
---

---
How many "Mickey Mouse" leads at 123 Main St. can you handle before your clients start getting upset and looking elsewhere for leads? 555-1212 is a pretty popular number right? leadQC.com can help stop the bad data problem by running over 30 data quality checks against your leads. leadQC can be integrated into a boberdoo.com lead system or we also have a web service available so you can integrate leadQC with your current lead system.
---
What Is The leadQC About
---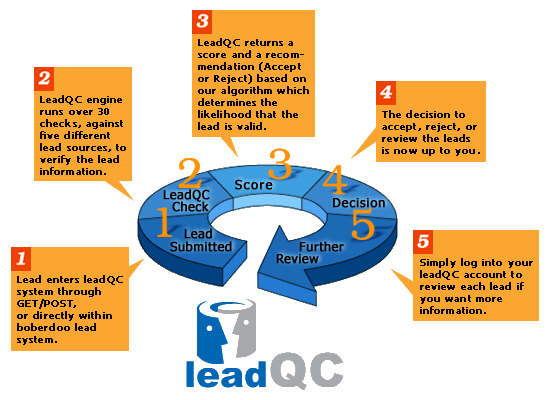 ---
leadQC Features
---
Over 30 total checks against your data including the following

Geo-location testing - did somebody in Mumbai fill out the form saying they are in Memphis? This helps fight against fraudulent affiliates.
Reverse address to phone and phone to address comparison
Area Code comparison mapping
Zip Code comparison mapping
Cell phone and business phone lookup
Alternate name/number lookup based on both address and phone number
Bad words filter
Data compared to 5 different data sources!
For certain packages we use GeoLite2 data created by MaxMind, available from https://www.maxmind.com.

Our proprietary algorithm takes all of the results and calculates a score
You determine at what score level you wish to define a lead as rejected
Review the results in your admin section so you can see why a lead was rejected
Extra tools in the admin section to help you make your manual decision on accept/reject
No sign up fees or long term contracts. Simply pay per query!